Moto Service Station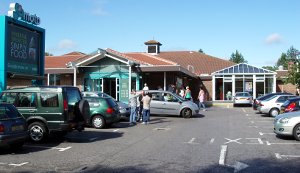 The M23 service station at Pease Pottage is one of the smallest motorway service stations in the country. Originally owned by Welcome Break, then Granada, it is now run by Moto.
The service station functions as the village's corner shop. Unusually for a motorway service station, there is access for pedestrians, along a path to the south of the main building. Whether it is technically a motorway service station is debatable, since it is not actually on the motorway, and is directly accessible from the A23 and A264.
Contents
Location and Directions
The Pease Pottage service station is at the southern end of the M23. A large roundabout links the M23, the A23, and a spur of the A264, as well as the local B2114 road into Pease Pottage village.
Unlike most service stations, the one at Pease Pottage is a short distance away from the motorway:
Leave the M23 at junction 11.
Get in the left-hand lane on the slip road.
At the top of the slip road, there is a set of traffic lights at the entrance to the large roundabout. You will see a prominent sign pointing left, toward the service station.
Take the first exit, which leads straight on.
Get in the right-hand lane.
A couple of hundred yards along, you will come to a roundabout.
Take the third exit (i.e. turn right) into the service station.
As you enter the service station:
If you want to go to the shops and the main car and lorry park, stay in the lane you are in, which curves around to the left.
If you want to go to the petrol station, take the junction which leads straight on.
To return to the M23, take the first exit (i.e. turn left) on leaving the service station.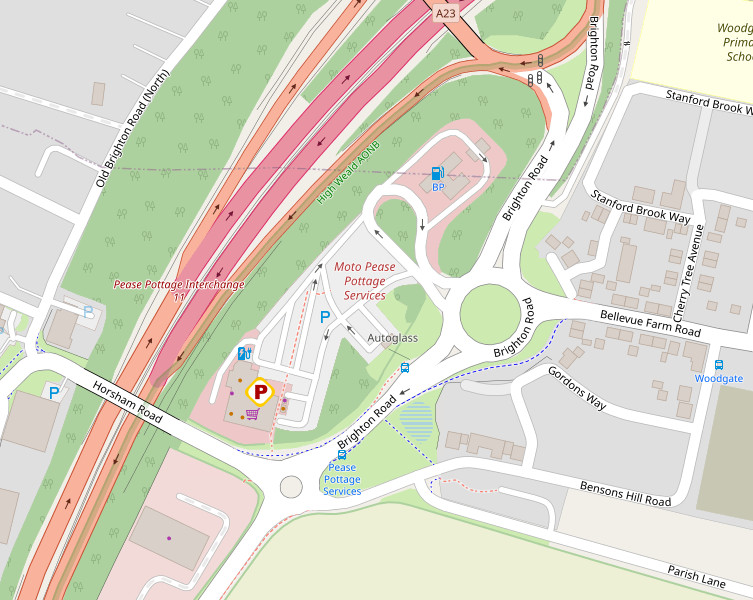 Facilities
The motorway service station at Pease Pottage contains:
several franchised eating establishments, which change from time to time (at October 2019: Costa Coffee, Burger King, a cornish pasty kiosk, a Greggs bakery, a krispy Kreme doughnut shop, and Moto's own-brand Eat and Drink Company);
a Marks and Spencer Simply Food shop: well-stocked and not too pricey, at least by Marks and Spencer's standards (update: the M & S at Pease Pottage started selling booze in the summer of 2013; because the site is off the motorway, it seems not to be subject to Section 176 of the Licensing Act 2003, which prohibits the sale of alcohol at motorway service stations);
a W H Smith, which sells mainly sweets, magazines, sweets, newspapers, sweets, crisps, and sweets (W H Smith company policy demands that tills be surrounded by piles of cheap tat, making it difficult to pay for stuff when a coach party descends on the shop);
toilets, including disabled access (via a

RADAR

key) and baby-changing facilities: small, but kept clean;
showers;
2 cash machines (

ATM

s): one in the main building that takes a small commission, and one by the petrol station that doesn't;
slot machines, which usually take a large commission;
vending machines for sweets and soft drinks;
pay phones (hey, kids — ask your parents how to use these);
a free wireless internet connection;
a monitor screen showing traffic conditions on the M23 and M25;
a small outdoor picnic area and children's playground;
some outside seating;
an information stand just inside the main entrance;
two charging points for electric cars, situated just to the side of the main building (to the right, in the photograph above);
a branch of Autoglass windscreen repairs, to the left as you enter the car park;
and a separate petrol station where

LPG

fuel is available, and which incorporates a branch of Costa Coffee.
Despite the impression given by one of the motorway signs, there is no accommodation at Pease Pottage services, although lorry drivers may sleep in their cabs.
Moto Road Signs
Moto has its own system of signs within its service station grounds. Few of the signs follow the standard Highway Code system for warnings, prohibitions and positive instructions. In fact, many of Moto's signs use the Highway Code's visual clues in precisely the opposite way from their normal meanings. There is an amusing dissection of Moto's bizarre signage system at http://www.cbrd.co.uk/indepth/motoservices/.
Opening Hours
By law, motorway service stations must provide food, fuel and toilets 24 hours a day, 365 days a year. The Pease Pottage service station offers two options for the hungry overnight traveller:
Burger King
The Eat and Drink Company café
The Marks and Spencer Simply Food shop at Pease Pottage is open 7 days a week from 7.00 to 22.00, and Costa Coffee from 8.00 to about 18.00 (a bit later on some days).
Parking at the Moto Service Station, Pease Pottage
Note that at busy times it can be difficult to find a parking space. If the car park is full, or if you want to have a long snooze and don't feel like paying Moto's parking charge, use this interactive map to check out other parking areas in Pease Pottage. Parish Lane, Finches Field and Old Brighton Road South are all used by canny, sleepy, and cost-conscious drivers.
Disabled Parking
There are a few disabled parking bays close to the building's entrance (behind the sign at the left of the picture at the top of this page). Moto used to employ a man with a peaked cap to keep an eye on the car park, but he disappeared some time ago. It is uncommon to see a car using these bays that actually displays a disabled parking badge.
Cost of Parking
By law, parking is free at motorway service stations for the first two hours.
To stay longer than two hours, you will need to buy a ticket in advance that entitles you to 24 hours' parking. The cost in 2022 is:
£15 for cars;
£31 for caravans and motor homes;
£31 for commercial vehicles (or £34 with a food voucher that entitles you to food up to the value of £10).
The prices and conditions of parking at Pease Pottage services change from time to time. Up-to-date information can be found at https://help.moto-way.com/knowledge/parking. If there is anything you are unsure about, please read that page and, if necessary, contact the Moto organisation: for details, see https://moto-way.com/help-and-support/contact-us/.
Buying a Ticket
There are three ways to buy a parking ticket for the Pease Pottage service station:
You may use a mobile phone and a credit or debit card. Phone 0330 400 7275 and follow the instructions, which are also printed on signs in the car park. There may be an extra charge involved.
You may pay online at https://m2.paybyphone.co.uk/parking (requires JavaScript). You will need to quote the service station's location number, which is 2455. Again, an extra charge may be added to the cost of the parking ticket.
You may pay in person at one of the tills within the building, using cash or a card.
You will need to buy your parking ticket before the end of your two-hour free stay. It is not currently (in 2022) possible to buy a ticket before you arrive at the service station. Again, if you have any questions, please see https://moto-way.com/help-and-support/contact-us/.
HGV operators can set up an account with Moto to pay for visits to this and other Moto service stations. See https://help.moto-way.com/knowledge/am-i-able-to-open-an-account-for-parking-at-moto.
Threats of Parking Fines
Number plates are recorded by automatic cameras on entry to the car park. Signs warn that overstayers will be issued with Parking Charge Notices and fined between £80 and £330.
Despite the impression given by the use of capital letters, Parking Charge Notices are merely commercial invoices issued by an unaccountable private company. They are not the same thing as Penalty Charge Notices, which are legally enforceable parking tickets issued by local authorities and other bodies subject to some form of democratic influence. Penalty Charge Notices in Pease Pottage are administered by Mid Sussex District Council.
No doubt Moto deeply regret any confusion caused by the name they have chosen for their invoices.
In Moto's favour, it should be pointed out that:
Two hours is not an unreasonable amount of time to stretch your legs and have a bite to eat.
There are several signs in the car park which inform drivers of the conditions of parking.
On the other hand, it should also be pointed out that:
The two-hour window is a legal requirement, not the result of Moto's generosity.
Resting places near motorways are a public good, and ought to be provided as a public service rather than primarily as a mechanism to transfer wealth to the owners of large private companies.
Legal Status of Service Station Parking Fines
It is unclear whether Moto are entitled in law to demand any more than their 24-hour charge, although no doubt plenty of overstayers do pay their official-looking 'fines'. According to Which Legal Service:
In the case of parking tickets issued by private companies, it is not criminal law but contract law that applies. … if you over-stay at a car park then the land owner loses revenue. The penalty however may apply [ sic ] a fixed charge of between £60 and £100, but this does not mean that they are entitled to this under under [ sic ] the law of contract. They are only entitled to their actual losses as a result of your breach of contract. … Anything above and beyond the actual loss that they try to claim would be classified as a penalty and, under contract law, they are not entitled to recover that penalty. Thus when PPCs [private parking companies] charge £60-£1000 for what is a minimal loss on their part, the above regulations [the Unfair Terms in Consumer Contract Regulations 1999] will apply.
See the full article at http://www.whichlegalservice.co.uk/members-area/parking-advice/challenging-a-private-parking-ticket/.
For more about the legality of private companies trying to 'fine' people, see:
Invoices for parking charges are issued to the registered keeper of the vehicle whose number plate is scanned on entry to the car park. But any parking charges are owed not by the registered keeper but by the driver of the vehicle. It is up to the owner of a car park to prove the identity of the driver of the vehicle, which the owner of the car park generally cannot do unless the registered keeper discloses the information. In practice, it appears that if you completely ignore the invoices, they will go away.
The money-grabbing aspect of the Pease Pottage service station car park is sub-contracted to an outfit called CP Plus.
Contacting the Service Station
None of the franchises at Pease Pottage service station are particularly easy to get hold of by phone or email. This may not be accidental.
Officially, the service station's phone number is 01293 562852. We have heard stories of people who have tried ringing this number — whether to complain about a parking 'fine', to enquire about some lost property, or, in one case, to ask for CCTV or ANPR images to be supplied to the police after a theft — all without success.
If you need to contact the Pease Pottage service station and you find that no-one answers the phone, your best bet is to contact Moto's head office on 01525 873933.
Insider Tip
For a wider selection of shops as well as toilets, adequate parking, and a petrol station, go to Broadfield in Crawley, just over one mile away. The petrol station in Broadfield, which is tucked away behind the shopping parade, is noticeably cheaper than the one at Pease Pottage services.
From the M23/A23 roundabout at junction 11, follow the signs for the A264 towards Horsham. At the first roundabout, take Tollgate Hill, the third exit (right) into Broadfield. Be aware that although Tollgate Hill looks like a 50- or 60-mph road, the limit is actually 30, and there are sometimes radar traps. At the first roundabout on this road, either
go straight on (Coachman's Drive), then go over one more roundabout, and the shops are signposted about fifty yards along to your left, on Pelham Place;
or go left (Creasy's Drive), then follow the road to a roundabout where you will see the shops on your right. Go straight on to reach the car park on Pelham Place.
More Information
There are no other service stations on the M23, but:
The next nearest services are on the A23 at Handcross, about two miles south of Pease Pottage. These services, which are accessible only from the A23 southbound, contain: a petrol station, a small shop, toilets, and a car wash. There is a similar set-up about six miles further south on the A23 at Hickstead.
The next nearest motorway service stations are at Clacket Lane on the M25 eastbound, about 22 miles away, and at Cobham on the M25 westbound, about 38 miles away.
There are several petrol stations in Crawley. Apart from the one in Broadfield, the easiest to get to is probably the one on the A23 just beyond Cheals Garden Centre, about 3 miles to the north of Pease Pottage. The petrol station is on the southbound carriageway, so you'll need to go on to the next roundabout, then double back.
The photograph gallery includes some pictures of the building of the Pease Pottage service station.
You can find out all about the very exciting history of the M23 at the informative and newly revamped Chris's British Road Directory site.
Contact Details
website

email

no email

phone

01293 562852 (branch) / 01525 873933 (head office)

address

Brighton Road, Pease Pottage, Sussex, RH11 9YA